Discussion Navigation: Hotel Bed Bugs (pg 1) · Hotel Bed Bugs (pg 2) · Hotel Bed Bugs (pg 3) · Hotel Bed Bugs (pg 4)
I've had a lot of visitors ask me if I can do research on infestations at hotels; what they are after is sign that the hotel has had bedbugs in the past. In the past, I'd do the research and send off an email but that only resulted in duplicate work on my part so I've decided to move everything to this page where anyone can read the outcome of my findings.
Below is Richard's arm covered with more than 50 bites! Click the image for more bed bug bites!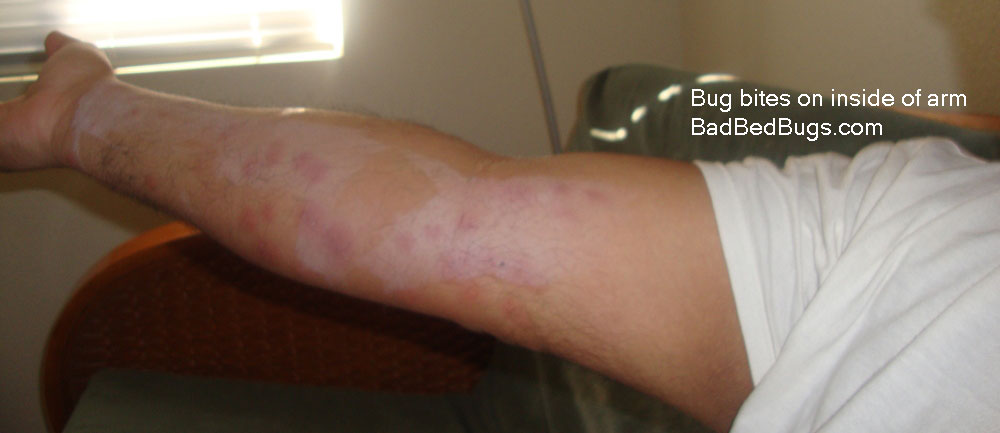 What makes this service stand out among the rest, is that I DO NOT accept hotel bashing! Yes, there are actually people who don't get their way and will bash the hotel for bed bugs even though it was unsatisfactory service that really got them upset.
Hotels, even the best kept hotels in the world, can end up with a bedbug infestation. How the hotel handles complaints and how fast they act to stop the spread of bugs is the most important question.
Unfortunately, there are a number of hotels that place the blame on the visitor rather than pay for treatment. These hotels usually stand out like a sore thumb when doing research.
Perhaps you are concerned about the hotel you'll be staying at? Perhaps you are one of those unfortunate people who were bitten and would like to verify the hotel's claim that such a problem has never occurred before? Whatever the case may be, I'll do my best to research the hotel and provide links to support my findings. We've developed a very efficient way of researching hotel bedbug complaints and it's a completely free service.
How to Check your Hotel for Bedbug Complaints
1st, enter the name of the hotel, apartment or location into the search box at the top of this page. If there have been reports of bed bugs, the search results will pull that information from our database and display it. If you don't receive any results, then try your search again, but narrow the search to something like just the street address.
If after searching the comments, you don't find your hotel, then simply leave a comment below with the following:
Name of Hotel: Enter the full name of the hotel you would like checked for bed bugs. Limit 1 request per visitor.
Address of Hotel: Complete address of the hotel
Detailed Description of your request: For example, "I've heard that this hotel has bed bugs and we plan on staying there next month" or "Planning a trip next month and we are wondering if there have been any reports of bed bugs?".
Comments with missing data will be deleted – sorry, but it's hard enough for me as it is; I do this on my free time and looking up missing data makes it that much harder.
If you have been bitten and can take a picture of the infested hotel room, please send it to us and we'll try to get it up on the site. Pictures not only serve as evidence, but can also be referred to when dealing with management.
Here is an example of what can happen after being bitten in the face by Bed Bugs when staying at a motel along with MQ's story:
Comments concerning bedbugs in Hotels
Discussion Navigation: Hotel Bed Bugs (pg 1) · Hotel Bed Bugs (pg 2) · Hotel Bed Bugs (pg 3) · Hotel Bed Bugs (pg 4)