From Tierre::
Hello,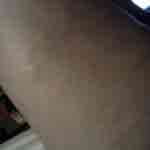 My name is Tierre and I was reading over you guys' badbedbugs.com website and I'm a little concerned about the bites I have on my legs. Can you tell me if they are b-bug bites. If it helps any, I will add that they are really itchy and are flat bites. It would be very much appreciated if you respond to this email. Thank you very much.
Anon::
A visitor posted this from their phone and wanted to show everyone what bed bug bites, shells and the bug itself looks like. Here is her comment::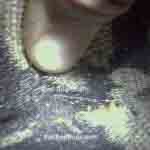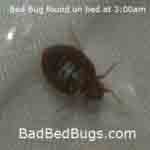 My son was sleeping I took this so others know how a bite looks like. Found on the arm rest underneath the long couch. Just discovered them after my son and I had lots of bites. Bed Bug I stayed up all night and waited until 3:00 a.m then I found it crawling on the sheet. I grabbed it with napkin and there you have it one more XBug!!! Before last night I had never seen a bed bug bite. They are so gross looking!
Steve::
I woke up yesterday and noticed these marks that could be bites on my chest. They do not itch and they are quite tiny. They are very bright red almost as if they are wet with blood (but they aren't wet at all).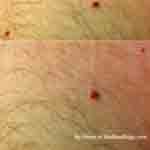 I read through this site worried that it could be bed bug bites since there appears to be 3 in a row though they aren't very close and the 3rd one is very tiny and not bumped up. I took off my sheets and inspected all around my mattress and box springs and wall but saw no bugs, exoskeletons, eggs. Also I was wearing a white undershirt but there were no blood stains on it or my sheets or mattress. Can anyone confirm what these are? For all I know it is just popped blood vessels but the 3 in a row has me worried. Thanks.