Mites can leave bites that look like they came from bed bugs, but not all mites are the same, so let me quickly explain. In fact, there are almost 46,000 species of mites, but only a few bite humans!
They are the Northern Fowl Mite, Tropical Rat Mite, and Itch or Scabies Mite. The picture above is from an Itch Mite!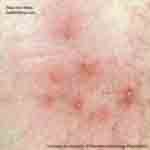 The Scabies Mite bite is often confused with a bed bug bite and can turn into red welts your upper body (shoulders, face, neck and arms). After about 10-12 hours the itch mite bites turn into what look like pimples and become very itchy lasting up to 14 days; whatever you do, DO NOT itch them!
Scabies mites usually come from another human, can not be seen with the unaided eye, digs into your skin and is the cause of the pimple like bites. Note: You could have scabies mites for up to a month without noticing and itching will be worse during the night!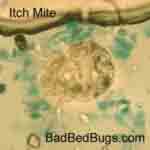 Itch mites come in contact with humans when they handle straw, hay, grass, leaves and seeds that contain the mites. Bites from itch mites look like a rash, similar to the picture above, and will produce a strong desire to itch which is the last thing you want to do! They can't live on humans or indoors so if you bring them into your home, it won't last.
The Northern Fowl Mite comes from birds and can live up to three weeks without its host, but will feed on humans when birds can not be found. The bites will become red and itchy, not as bad as the picture above, but certainty noticeable. Tropical Rat Mites come from rats with bites similar to the Norther Fowl Mite.
Many people believe that the dust mite bite can be mistaken for a bed bug, but this is a common misconception. Dust Mites do not bite, instead, they can harm humans from becoming airborne (as well as their feces) and triggering asthma attacks or make breathing difficult.
The best defense against mites is a strong vacuum cleaner with a HEPA filter.
You may develop red welts that look like chigger bites on your neck, face, arms and upper body. These bites are not usually on legs where chigger bites may be found. The itch mite welts form into a pimple-like lesion after about 12 hours. The bites are very itchy and can be present for up to two weeks.
Here are a few tips by visitors that helped them get rid of mites and their bites! Thank you Mark and Barbara!
Mark (who used food grade DE (bed bug dust) to solve the infestation:
First of all, I want to thank every one of you for sharing your story & making me realize I am not alone or isolated in my quest for get rid of these parasites.
Here is my story:
My miniature poodle killed a rat in the backyard last fall. Shortly after that, I noticed her increased scratching and biting herself. I bathed her & saw no fleas or ticks. About 6 weeks later these mites found their way onto me & have been battling them ever since then. I went to the doc in December & he said it looks like bed bugs & said the sensation I feel is not real….oh really? He argued with me that scabies only leave red marks in the creases of legs and arms & this is not scabies & said I need to shower more often. Oh really. Don't you just love know it all ego maniac doctors who really think they know it all?
I shower at least once or twice per day. Here are some of my symptoms :
Feeling crawling especially at night on my scalp, face, ears, in my nose, legs, arms and anus. Mites coming out of my eyes, ears, nose & biting my anus is very real. They have left marks mostly on my legs, arms and rear end. They bites get inflamed for a day, then turn into a painful pimple that I have squeezed & popped most of them. Some of them go away permanently & others have scarred my upper legs and rear end.
I started spraying my scalp with a mixture of water & tea tree oil. It helped for about 3 hours & then they are back more active than ever. If you use full strength it can burn your scalp.
This helped a little bit. I got in the shower before I turned the water on & sprayed a mixture of 50/50 Listerine & water. The mites hate menthol. So I covered everywhere on my body & could feel them run off me. It did burn as I left it on me for a good 10 to 15 minutes before I rinsed off. After they run off you, spray Windex with ammonia all AROUND your feet, this will kill them in the shower, do not spray on your body! I bought some Dr Bronner Castille Peppermint liquid soap. I soaped up my entire body & scalp, let the later penetrate my scalp for a good 15-20 minutes. Mites hate peppermint. This helped to decrease their population. A couple times a week, I douse my scalp in menthol conditioner. By putting lots on & leaving it on for a good 30 minutes to an hour, this will suffocate the mites.
After the shower I apply the menthol equate lotion from Walmart all over my arms, legs and anus. Upon waking up, I stripped my bedding, sprayed my mattress and flooring with windex. Soaked all clothes and bedding for a couple hours in borax & then washed.
After I vacuum, I place the bag in the microwave for 20-25 seconds to kill any mites in the bag. Have to make sure no metal objects in the bag & spray the outer vacuum with windex. I also sprayed windex in my car. Tore out all carpeting in the garage as my dog sleeps on a love seat there. I also sprayed her bedding in the morning with windex.
I seemed to feel them more when I am on the computer, so I sprayed windex everyday….thanks Randy for your story & your cure.
I stayed out of my room for 3 days, slept in a different bed & noticed a rapid decrease in mites on myself.
Mites love sugar & yeast, they are attracted to bodies that consume lots of it. I recently decided I wanted to make my own body chemistry more unfriendly & hostile to host these parasites. I have eliminated all refined sugar & yeast from my diet.
I consume the powder form of MSM available at most vitamin stores. I take 1/2 a teaspoon twice per day, upon waking up and at bedtime. I mix it in a cup of fresh water, it is so bitter, but that is OK, it has allowed me to at least sleep at night & keep the mites from biting me all night long. I also consume menthol cough drops to prevent them from crawling out of my nose at night, this has helped a lot. In the morning & at night time to help alkalize my internal body chemistry, I consume a large mug of lemon/lime hot water. I heat up the water & squeeze the juice of a fresh lemon & lime and drink it raw twice per day.
I also consume 3 garlic cloves chopped up in my own broccoli slaw mixture every night before bedtime.
Mites hate menthol, MSM, lime & garlic. When I started on the MSM about 2-3 weeks ago, I had an increase in mite activity at night for the first 2 nights as the mites hate the taste of it, then it rapidly made them stop biting me as I was bad to the taste for them.,
The fresh garlic cloves are most effective. I tried garlic powder, it was not as effective at calming down the bites as the whole garlic cloves are.
Funny thing is my dog has eaten the sliced thin garlic cloves every night & over the past 3 weeks, her ears are completely healed, her tummy is 80% better. The web between her paws were crusted, now all the crusted scabs are gone, still somewhat red, her scratching and biting have also decreased by 75%. Her breath smells so bad. However if it makes the mites leave her for good that certainly does not hurt my feelings.
My situation has improved 65%-75%. I am hoping and praying that by the end of February or March if I keep on this disciplined schedule, I will be free of those awful parasites by that goal setting date.
Some of the things above may work for you or perhaps they will not work for you. It's worth a good effort try.
I have compassion and empathy to everyone battling these long lasting parasites.
Thanks again to all. Don't give up, Keep up the fight! You will win.
I will keep you updated.
Warning: Feeding large quantities of raw garlic to your pets can cause gastrointestinal problems and red blood cell damage.
and this tip from Barbara (in response to Amanda from the comments below):
I too, recently dealt with a mite infestation. I looked and looked and couldn't find what was biting me and the parallels with what you have said makes me believe you have mites, not bed bugs.
Let me tell you about our problem… it all started when we went to see a breeder about getting another dog as a companion to our current dog who we have had for 4 years with absolutely no problems. Anyway, 6 weeks after being in the breeders house, bang on que, I started to itch – uncontrollably on my hands. Then, a week before Christmas, we got the puppy and the poor little thing was itching terribly too. It was at this point that my husband and I recalled that the mother dog had had a very poor coat. Looking back, its clear that she was suffering from Mange (name for dog mites). In any case, doctors say you can't get mites from your pets, but I'm sure we all agree that's nonsense – YOU CAN!! The bottom line is that I got scabies from the puppy (human mites) and here's what I did to beat them in 1 month:
1. Get Permethrin 5% cream (this is available over the counter in the UK, or by script in the USA). Apply the cream at night from your neck to the bottom of your soles, being careful to ensure the cream gets into every single crease, under your nails — everywhere, because mites like to hide. Leave it on for 8-12 hours and wash off in the morning. Repeat the treatment 4 days later, and then 4 days later again. This is because the cream kills the mites but not the eggs which will hatch otherwise. Do this treatment a minimum of 3 times (they say twice is enough, but experience has taught me otherwise!).
2. Wash all bed linen and clothes you've worn within 3 days of the outbreak in 90 degree celsious water. Add borax (20 mule) to the wash if you can.
3. Anything that cannot be washed or dry cleaned should be sealed in bin bags for 2 weeks (this includes shoes). People say 3 days is enough, but I wanted to be sure!
4. If you have been wearing leather gloves, put them in a plastic bag and pop them in your freezer for 1 week.
5. Vacuum everything, every day — rugs, hard floors, furniture and upholstery. This is a pain, but I swear you will be sorry if you don't.
6. Wash all hard floors in diluted bleach every 3 days.
7. Ensure that you bath every night in a bath that is as hot as you can stand it and add 10-20 drops (check your sensitivity first!) of 100% pure tea tree oil, clove oil and lavender oil. The mites HATE this, but the added benefit is that it will give you fantastically soft skin and glossy hair and can be done regularly even if you didn't have mites.
8. Buy Lavender-Sulphur soap from Dermasil. This is very cheap and apart from the ingredients (which mites hate), the sulphur in the soap acts as an exfoliant and helps to remove the debrie left behind by the mites (skin, faeces etc) which is in the top layer of your skin. A real problem with mites is that the itch continues for far longer than necessary if you don't get that crap out from underneath your top layer of skin. This soap is organic too, so it won't harm your skin.
9. Ensure you get your pets to the vet for a spot-on treatment like Advocate or Stronghold. There is no point treating yourself and your house if you don't treat them as the problem will just start up again. If you can't afford it, beg the vet to do it and promise to pay later — I think most vets will do it for you.
10. Get your house fumigated for bed bugs and fogged for mites. Also, buy Benzarid from Dermasil and spray it on your furniture, in your car and on your floors.
If you follow the above, you should see a DRAMATIC difference in 1 month.
I know from bitter experience how desperate I felt — like it would never get better — but I PROMISE you, it DOES!
Best of luck to all of you.