Bed bugs are excellent at hiding and can fit into spaces as narrow as your business card! There, they wait to attack until you are in a deep sleep and most vulnerable; this site will show you how to locate these bugs, how to treat bites and how others have successfully performed their own bed bug treatment. If you're looking for photos of bed bugs and infestations, our extensive collection from visitors around the world is a must see; if that doesn't scare you, then take a look at just how much damage bed bug bites can do to your skin!
Our hotel bedbugs section helps you to avoid places that are known to be infested and what you should do if you wake up covered in bites. Using the few simple precautions mentioned in our bedbug checklist can help you find these elusive blood suckers and prevent the nightmare from ever happening in the first place!
Finding bed bugs in your home has nothing to do with poor hygiene! It takes only one bed bug to hitch a ride on your clothing (furniture, suitcase, etc) and infest your residence. What's worse is that they can live up to one year without drinking a drop of your blood (see our bed bug life cycle). Feeding takes about 10 to 15 minutes for adults and less for the nymphs; they feed about every three days. Depending on the conditions, bed bug nymphs can survive for months without feeding.
Bed Bugs are insects, more specifically, 'True Bugs', which have piercing mouthparts that in most species are used for feeding on plants. Unfortunately, there are some species of bugs with mouthparts that have been adapted to feed on human blood while inflicting very little pain (most never feel the blood feeding).
The eggs are white and about 1mm long. The nymphs look like adults but are smaller. Complete development from egg to adult takes from four weeks to several months depending on the temperature and amount of feed available, see the lifecycle chart on your right.
On average, females begins to lay eggs 4 days after mating and produces 260 eggs throughout their year long lifespan; eggs take 7 to 10 days to hatch. On average, bed bugs lay 5 eggs per week with populations reaching into the thousands in only 30 days!
They DO NOT have wings, but that doesn't slow them down, they move at 4 feet per minute and usually are within 20 feet of their victim, however, motivated bed bugs can reach up to 60 feet! When hunting for food, they pick up bits of CO2 until they get close to the source, then follow the heat your body gives off.
Once they found you, the search for the perfect blood vessel begins. They start by testing areas and adjusting to new areas until they hit the right spot – it's this movement that can make a few bugs searching for food appear as if an army has fed upon you!
Humans are the preferred meal, however, when not available, dogs, cats and even rodents will do. Uninterrupted, a bed bug can fill up in little as 5 minutes and do this about once every 6 days. Studies show that a adult male can live up to a year without blood at 50F and only a month at 80F – point is, when starved, they die faster in warmer temperatures.
*Based on study by Mac Dubbed Gobs in 2011.
How do you know if you have bed bugs?
Bed bug bites can be helpful in determining if you have an infestation. In the photo below you'll see a visitor who was bitten by bedbugs; he itched throughout the night and when he went in to check, this is what he found!
Although the image to your left is a severe reaction, you may find that your bites are not this bad; not everyone reacts the same to bites. The grouping is a good sign and you should start checking for mold like spots on your mattress.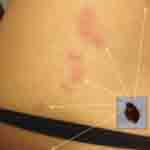 If you have such a reaction, check with your doctor who may recommend an antihistamine or topical cream to relieve any itching and or burning. Do not scratch the bites as this may lead to infection!
Bed bug bites tend to have a pattern and the photo below shows a great example of what they look like.
You may also notice a smell if they are squished; some say it's a raspberry smell but I believe those people had rose colored glasses on because it's usually a very distinct, musty odor, and not pleasant at all!
Bed Bug Help
Our Bed Bug discussion has thousands of stories and pictures of people bitten by bed bugs that include helpful insights such as how to treat bed bug bites, how you get bed bugs and how to kill bed bugs. If have bite marks on your body and are looking to determine what bit you, check out what do bed bug bites look like? section, it can be a big help! If you have a picture, please send it in and we'll post it for others to comment on – not to worry, we'll crop the picture so that only your bite shows, so don't fret about the details.
If after viewing our checklist you still can't find bugs but suspect that you have them, why not make your own bed bug trap which costs less than $10 and can put an end to the guessing! Our Bed Bug Treatment section covers in detail the methods used to get rid of these bugs and our Frequently Asked Questions (Bed Bug FAQ) covers the most common questions our visits ask.
Quick tips to help remove bed bugs
My page on how to get rid of bed bugs naturally using bed bug dust will walk you through the extermination process step-by-step, but in general, you'll do a lot of cleaning and then apply the mixtures I provide on that page and apply it everywhere bugs might hide.
Wash all your linens and place them in a hot dryer for 20 minutes (or you can freeze them at -5 C or below for five days); you'll do a lot of bagging of items that can't be washed.
Next, you locate the bugs hiding places which include your alarm clock, your picture frames, inside your mattress (their most coveted breading ground), electrical outlets, under baseboards and inside any wall cracks, to name a few.
You'll vacuum all these areas, treat them with heat (I explain that in the page mentioned above as well), spray it all down and then apply the dust. You can vacuum to capture bed bugs and their eggs, but because the eggs are embedded into the fabric, you may have to scrape the surface with a fine tooth comb – we cover all this.
After applying the natural pesticide, it's time to seal everything up, from the cracks in the walls to tears in the box spring to adding covers that completely seal the mattress. Remember, a nymph can live for two months without feeding, an adult can survive more than 12 months!
You can place glue boards or sticky tape around your bed and in the room to catch the bed bugs as the move around; this gives you a way to monitor the effectiveness of your efforts.
Food grade diatomaceous earth is an all natural pesticide and one of the best kept secrets in the war against bed bugs! This really works, but only when used in properly. Take your time, follow all the steps and do it right the first time and chances are you won't have to do it again – that is, unless you bring them back into your home. This is why it's so important to recognize bugs and understand the precautions you need to take in order to prevent future infestations.
A few ways to prevent bed bugs from getting into your home include:
Hang clothing in the closet farthest from the bed
Place luggage on the folding rack found in most hotels
Place luggage in the dry cleaning bag found in the hotel.
Most important, don't bring home a mattress that has been used by unknown sources.
Bad Bed Bug Treatment!
If you're going to be your own exterminator, then you'll find everything you need to be successful right here on this site, see my page on using bed bug dust to eliminate them once and for all. However, you should be aware of things that can make matters worse – often, uneducated landlords will suggest some of these items! I'll list them below:
Moving infected furniture to another room – this is almost a guaranteed to spread the infestation to another room. Until you know for sure that the room you're moving into AND the furniture is free of infestation, don't move it!
Setting off a bed bug bomb in an infested room or apartment – You'll most likely drive the bugs into the the apartment next to you or the adjacent room. They are also responsible for numerous injuries and some deaths from improper use!
Using a mattress encasement that is not made for bed bugs – Manufacturer would like you to believe you need a mattress cover made just for bed bugs, but the truth is, one designed for dust mites will work just fine, it just has to seal. If you use a cover that doesn't seal, the bugs will find the opening and escape!
Applying bug dust to aggressively – a very light sprinkling is all that's need, pouring DE throughout your house can create a hazardous environment for those breathing it in. Follow our instructions and do it right!
Tips for Travelers
The very first you should do is make sure your hotel is bed bug free!
Understand that ANY hotel, 5 star or not, can get bed bugs and check for signs BEFORE you spend the night! I've got an entire checklist at the top of this page that will show you where to look in detail – this is extremely important!
Use luggage that seals completely and make sure to keep it closed when not in use. Store as many of your clothes there as possible.
Use the hangers when cloths can't be stored in luggage or plastic bags. Make sure to place used cloths in a separate plastic bag.
When you get home, immediately wash all your cloths on 140F minimum high heat (fabric permitting).
Why isn't the Government doing more?
Actually, they are and according to the EPA on bed bugs and infestations, have awarded more than half a million dollars to universities and agencies in hopes a way to eliminate these bugs once and for all will be discovered.
They have also created the Inter-agency Bed Bug Task Force that includes the CDC, Department of Health, USDA, Housing and of course, the EPA which created an entire site dedicated to educating people about bed bugs; however, they are limited on DIY information and lean toward hiring professional exterminators.
Bedbugs do damage, not only to the body from attacks, but also in the form of mental fatigue. Living with an infestation for too long may cause a paranoia to develop that leads the victim into believing they are being bitten when in fact, they are not.
The Cost Of Bed Bug Extermination
There are thousands of comments on this site and many complain of outrageous costs, some of up to $5,000 for serious home infestations. The average reported by visitors for heat treatment is around $1,800 per visit and often, there are no guarantees. We've also have an incredible number of complaints that the pest control company ended up with the victim's cash and left the infestation intact.
There are other methods of professional bed bug treatment which we cover in detail, but the most important point when hiring a pro is to make sure they are really a professional that has specialized training on bed bugs! If an exterminator tells you they can get it done in one visit then keep looking. It takes at least two visits to make sure the treatment worked.
You CAN do it yourself, so Start Now!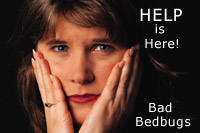 This site is all about helping you deal with bedbugs without having to pay extermination fees, but if you don't have the time to do it right, or the patience, then you'll only make matters worse. Have an infestation and not sure where to start? Want to get started right now? Then read our page on pest control / bed bug treatment or jump right to the bed bug dust solution and see comments left by visitors that now enjoy a bug free life.
Perhaps you can help identify the bug bite left by a visitor or know of pest control method not mentioned? If so, please leave a comment and help out. Bedbug infestation is a frightening experience and knowing that others have been down the same road can really help, so please comment whenever possible.
Take a look around and enjoy the site!