Sown in the image above are the results of using a protective cover on an infested mattress, you can see the bed bugs were trapped inside and died from starvation (bottom right); this works great, but only when done as part of the entire treatment process.
You'll see a large number of manufactures selling specialized covers just for bed bugs, but did you know that dust mite covers work just as well and are a lot less expensive?
You can get a mattress protector from your local store, just look for allergy relief / dust mite barrier covers; these are effective enough to stop bugs from passing through the fabric.
Mattress & Box Spring Protective Cover Considerations
All protective covers are not the same and some are completely ineffective. Below are three important tips to consider when selecting a product.
1. Zipper Must Seal Completely
Make sure that there are no gaps when you zip up the mattress cover and that it seals completely at the zipper stop. Bugs will take advantage of the tiniest of gaps to escape and feed. Choose a zipper that will withstand the test of time after multiple washings.
Upgraded end zipper Fabric Blocker patch.
End stop zipper hook feature.
Sided zipper for easy installation & removal.
2. Get the Right Fabric
You can have a cover that seals completely, but if the bug can wiggle its head enough to still bite you, its not going to help.
Skip the Vinyl protective covers which are noisy and hot, and focus on Polyurethane-Lined Protective Covers. This material is  resistant to bed bugs, allows your skin to breath and helps prevent sweating.
Waterproof backing on all sides of cover – Total barrier Fabric.
Stretch knit jersey bottom fabric is 100% waterproof and also breathable like the human skin.
Cool and totally quiet sleeping surface unlike plastic.
Machine Washer & Dryer Safe.
3. Cover the Box Spring
The wood in that box spring is a great nesting ground so don't forget to protect that from bed bugs as well! When selecting covers, make sure the manufacturer offers an encasement for both.
The right product will offer protection for the mattress, box spring, and pillows. Look for products that:
Are hypoallergenic and offer a multi-layer microporous barrier with a multi seal zipper.
Provides testing data to support protection.
Buy a full encasement cover, not a fitted sheet style cover
Covers are scented to help reduce the smell bed bugs can produce.
There is no use encasing your mattress if you are not going to seal your pillows – bugs love pillows.
What you can expect to pay for a quality bed bug mattress cover
Twin Mattress Protective Cover

39″ X 75″

$

45
Twin XL Mattress Protective Cover

39″ X 80″

$

50
Full Mattress Protective Cover

54″ X 75″

$

55
Queen Mattress Protective Cover

60″ X 80″

$

65
King Mattress Protective Cover

76″ X 80″

$

75
An Inexpensive Alternative
Kelli, a visitor, explains how she found a cheaper alternative:
We purchased mattress covers made specifically for bed bugs @ Walmart. Twin size was $30. They also sell a mattress cover under the house brand name for $20. We were going to use them to cover our box spring, but they didn't fit. We used the one that we had already opened for the twin bed in the guest room. It is a day bed, therefore has no box spring.
Amazon.com carries covers made specifically for box springs. The size has to be extra long if you are using it for a box spring. We have a CA King premium mattress from Simmons Beautyrest. We were told that we had to have the mattress cover on it that we purchased at the same time as our mattress for our warranty to be valid. It is a 20 year warranty, so believe me, we have always used the cover. It is not a zippered one, but we had no "black specs" on our mattress. It was sprayed by the exterminator, who also felt it was "safe." Last night was the 1st time in 5 days that we got to sleep on our own bed again! I never in my life knew the pure torture that comes from not getting a peaceful night's rest!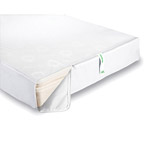 I shopped around a bit & here are my results: Target didn't have any, Bed, Bath & Beyond has vinyl covers from $15-$90 (the expensive ones had bells & whistles) and Walmart has covers including pillow case covers from $15-$45. I only paid $6 for my actual pillows, so I didn't feel it necessary to pay $6 for a pillow cover. The King size pillow covers are $8. Walmart sells allergen pillows w/ a bonus zippered cover for $12 for standard, $14 for queen.
Note: Allergy protection is the same thing as bed bug protection, if it can protect you from allergies it can protect you from bed bugs. In fact, you can buy mattress labeled dust mite or allergy protection for a lot less.
I hope this helps those that can't afford the high end encasement!