Although we have a ton of pictures and their associated stories throughout our site, many people still ask what do bed bug bites look like; below you will find a sample of pictures of bed bugs and their bites. We have a ton more pictures of people bitten by bed bugs, just visit our Bed Bed Bites link in the menu bar above.
Although small in size, you can do a quick inspection to make sure you don't have something similar, such as when staying at a hotel. They don't hide in plain sight and this end of the mattress was covered and facing the wall.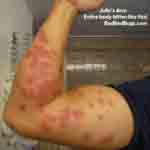 To the left you'll see a picture submitted by Ross showing exactly what bed bug bites look like. This happened during a stay in a cabin at Yellowstone National Park and was not limited to his head, but also over his entire body!
To the right you can see a bad reaction to bed bugs as they made a meal of Julio's arm and below, you can see the bed bugs and damage they can do!
The image below is from Monica and serves as an excellent example of the bite pattern of bed bugs!
A special thank you to Ross, Monica and "Afraid to sleep at night" for sharing these pictures with everyone around the world!
If you have a bed bugs photo you would like to include, please send me an email with the picture attached to badbedbugs@gmail.com; this not only helps you, but helps others figure out what bed bug bites look like and possibly identify their own bites.