We get a lot of visitors asking the same question, what do bed bugs look like? Initially, they are very small with the eggs looking much like rice. As they develop, they start off almost transparent until their first feeding shown in the images below.
As you can see from the image below of a small bed bug feeding, they could be easily missed upon initial inspection.
When you look at an unfed bed bed, they appear round but after a good feeding, their bodies elongate to contain the blood and turn reddish-brown in color and about the same size as a lady bug.

The following two photos are by R. Lgnell and depict bed bugs in different positions.
The image below shows the bug upside down to show the underside.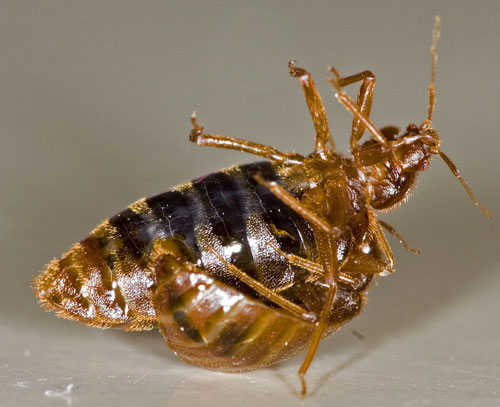 The next photo below is of a bed bug feeding on human blood with the elongated body clearly shown.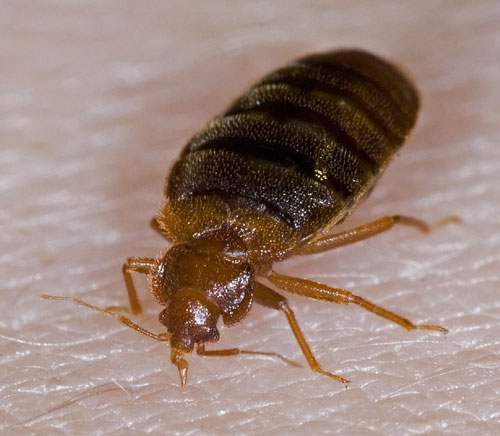 At Amherst, they take infestations seriously and educate their students on how to recognize these pest by posting bed bug photos to help students recognize all stages of bedbugs.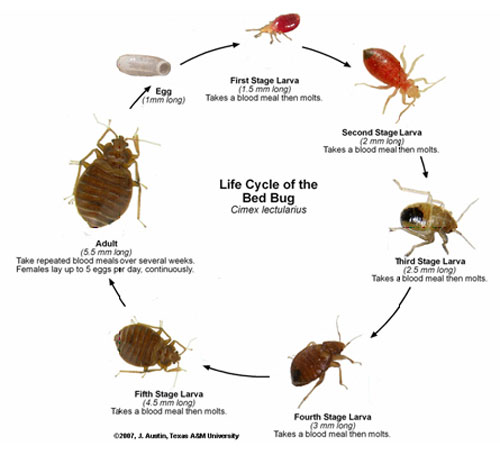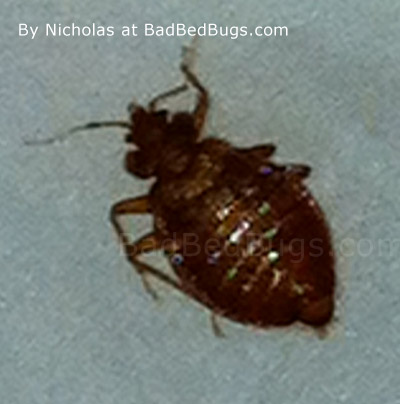 Over the course of a female bed bugs life, she will lay between 180 to 220 eggs. The white eggs shown in the infested mattress image further down this page are about 1 millimeter in length and stick to just about anything but are almost always deposited in dark locations as in the image of the mattress. After about 15 days, the eggs hatch and immediately look for their human food source.
Bed bugs have six legs and as shown in the photo below, have little hairs that are gold in color. They do NOT fly but do drop from the ceiling onto their sleeping victims. Many of our visitors report smelling a musty odor which is a tell tale sign to exterminators that bed bugs may be present.
This is a picture of an adult bed bug found running under the mattress and placed on a paper towel; as you can see, it's much bigger than a 1st instar. This adult will live up to a year, and when deprived of a food source, can hibernate for 10+ months until it detects carbon dioxide (the air we exhale).
Young bedbugs are called nymphs and will shed their skin as they grow (commonly referred to as bedbug shells). The image below is of a infested mattress and shows home-sweet-home (I know, that's sick!) but the smell they put off is said to be a musty sweet smell. I've pointed out the eggs, shells, feces (often called bedbug poop stains) and the adult bug in the photo to help you see exactly what they look like.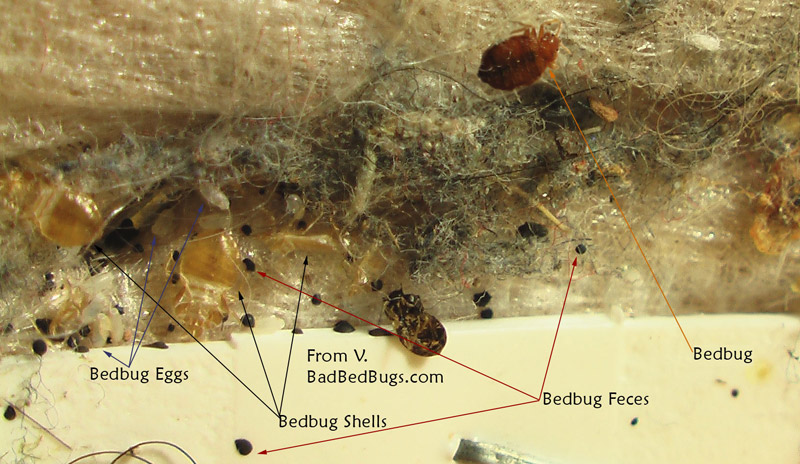 Although bed bugs are hard to find, they leave tell-tale signs such as odor and bites with the biggest sign being little black dots on your sheets or mattress. These dots, as show in the photo above, are black and may go unnoticed unless you're aware it's really their feces. See our bed bug checklist for locating their hiding spots!
Visitors have uploaded hundreds of such images along with their story, some include how they became infested to begin with while others explain how to get rid of bedbugs and what worked for them. You can hire a professional exterminator or do it yourself – if you do it yourself, check out our bed bug treatment page.
If you want to see pictures of bed bug bites, we have a thousands uploaded by visitors from around the world – it truly is amazing how much damage these little vampires can do to the human body!
If you have been bitten, know what bed bugs look like but can't find any evidence, the bites themselves may give a clue to what may be biting you. Check out our bed bug bites page and if you would like, take a picture and send it to me at badbedbugs@gmail.com. And, if you're looking for information on how to treat your bites right now, see our page on how to treat bed bug bites.