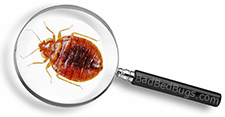 Did you find a bug in your home, apartment, or even your clothing and not sure what it is?
Have you been bitten and wondering if they resemble bed bug bites?
If so, then use the form below to send me a picture along with a description to help identify your new friend.
We also have slides showing pictures of bed bug bites if you're brave enough to view them, and also enough pictures of bed bugs to give yourself nightmares.
Need to send me a video file or having problems with this form? Drop an email to badbedbugs@gmail.com and let me know, will you? Thanks!